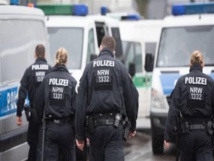 Stephan E is said to have been angered by the politician's support for refugees.
Luebcke was a district leader for Kassel in central Germany and a member of Chancellor Angela Merkel's Christian Democrats (CDU).
His murder sparked a huge outcry in Germany, where right-wing extremist crimes are becoming more common.
Long queues formed outside the Frankfurt court house on Tuesday. Coronavirus-related restrictions mean that only a limited number of people are allowed inside to follow the proceedings.
A number of journalists started queuing the night before to ensure access.
The 46-year-old main defendant from Kassel had admitted to the crime and shown police his weapons cache, but later revoked his confession.
His co-defendant, Markus H, is charged with being an accessory to murder. The 44-year-old is said to have put the alleged killer in touch with an arms dealer and conducted shooting exercises with him.
Stephan E now claims that Markus H was with him on the night of the alleged murder, and that he was in fact the one who shot Luebcke.
Investigators, however, are convinced that Stephan E was alone at the crime scene.
During the trial, Stephan E is also expected to answer to charges relating to a knife attack on an Iraqi asylum seeker in early 2016.
Someone stabbed the man in the back from behind in Lohfelden near Kassel, causing him serious injuries.
Police had been unable to find a suspect, although investigators now believe a knife found in Stephan E's possession was the weapon used in the stabbing.
He therefore also faces charges of attempted murder and assault.