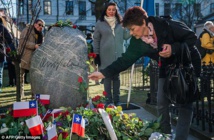 "I am positive about being able to present what happened around the murder and who was responsible," Krister Petersson told Swedish broadcaster SVT's crime programme "Veckans brott" (The Week's Crime).
Petersson has led the investigation since 2017.
Palme was gunned down in central Stockholm on February 28, 1986, minutes after he and his wife, Lisbet, had left a cinema.
Palme was hit by a bullet in the back, while his wife was grazed by a second bullet.
Palme served as leader of the Social Democratic Party from 1969 until his death. He was prime minister between 1969 and 1976, and from 1982 to 1986.
The assassination shocked Sweden and triggered a huge manhunt. However, the investigation was fraught with mistakes from the outset.
Investigators have considered numerous scenarios in the years that followed.
By one theory, Palme was killed by members of the Kurdistan Workers' Party (PKK), a militant separatist group banned by Turkey.
Another suggested a plot was hatched by secret services from several countries, including the then white minority-ruled South Africa.
Lisbet Palme and her family believe that Palme was killed by a petty criminal. Lisbet Palme identified a man she thought was guilty in a police line-up.
The man, Christer Pettersson, was convicted of the killing in July 1989, but was later acquitted on appeal. He died in 2004.
Lisbet Palme died in 2018.