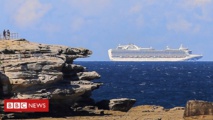 Border and health authorities allowed some 2,700 passengers to leave with only minimal checks, even though about a dozen passengers had shown respiratory symptoms before they disembarked.
The debacle is responsible for at least 622 of Australia's total coronavirus cases, while 11 of the country's 35 Covid-19 deaths have been Ruby Princess passengers.
The police will look into whether national and state biosecurity and border laws were breached, as well as if any "criminal negligence-type crimes" have been committed, New South Wales Police Commissioner Mick Fuller told reporters in Sydney on Sunday.
Fuller said it was too early to tell if a crime had been committed, but there was "clear evidence" that the novel coronavirus was brought off the ship.
The criminal investigation will also look into the actions of every agency involved, including the port authority, paramedics, police, the state health department, as well as the officials on board the ship and the cruise company Carnival Australia.
The probe comes after it was revealed that the state government was aware there were passengers on board showing coronavirus-like symptoms.
But state health authorities have defended the decision to let passengers disembark, after four officials assessed the ship as "low risk" and pointed to "no indication of Covid-19."
There has also been criticism that some ill passengers were allowed to disperse across the country before their test results were available. It was later found that three of them had coronavirus.
Fuller said the state authorities "were informed that Covid-19 wasn't an issue on the ship." Police are looking into whether the vessel operators were "transparent" about ill passengers and crew on board.
A spokesperson from Carnival Australia said it will fully cooperate with the police in their investigation.
Ruby Princess is currently stranded in the sea near Sydney after being barred from docking in Sydney Harbour again.
Fuller said about 200 crew members on board are now experiencing coronavirus-like symptoms.
Cruise ships are said to be responsible for more than a quarter of some 5,600 confirmed coronavirus cases in Australia and a third of the death toll.
Meanwhile, Western Australia has announced the launch of an unprecedented "hard" border closure, banning travel from other Australian states, from Sunday midnight.
"We're in a state of emergency... I know it might seem like Covid-19 has been going on for a long period of time now, but unfortunately we've only just started our battle here," Western Australian Premier Mark McGowan said.
Breaches can be penalized with a fine of up to 50,000 dollars (30,000 US dollars) for individuals and 250,000 for corporations. There are some exemptions, including for health workers, emergency services, freight workers, judicial workers, and on compassionate grounds.
Western Australia has also enforced intrastate travel restrictions, especially on remote Aboriginal communities, who are more vulnerable to communicable diseases.