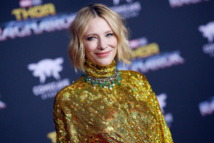 His win marks the first time that a Japanese director has been awarded the Palme d'Or since Shohei Imamura in 1997 with "The Eel."
The 55-year-old's movie was one of 21 films competing this year for the top prize at the world's leading film festival.
Headed by the Oscar-winning actress Cate Blanchett, the nine-member jury awarded this year's Grand Prix to US director Spike Lee for his latest take on race relations in the United States, "Blackkklansman."
The Grand Prix is the festival's second prize, after the Palme d'Or.
The 61-year-old's film is a true story about African-American undercover detective Ron Stallworth, who infiltrated the Ku Klux Klan white supremacist group.
A fierce critic of US President Donald Trump, Lee warned the black-tie audience attending the ceremony that "this is the year of living dangerously."
The festival also awarded a new prize, a special Palme d'Or, to legendary Swiss-French director Jean-Luc Godard for what Blanchett said was his role in "redefining cinema."
The 87-year-old's latest film, "The Image Book," which explores the "lost paradise" of the Arab world, also screened in the festival's main competition this year.
Cannes' third prize, the jury prize, went to Lebanese actress-turned-director Nadine Labaki for her politically charged "Capernaum" about the plight of illegal immigrants and the exploitation of their children.
Poland's Pawel Pawlikowski won Cannes' best director award for his passionate love story "Cold War," set against the backdrop of post-World War II Europe.
Italy's Marcello Fonte won the best actor award for his role in Matteo Garrone's black comedy "Dogman" as the owner of a dog-grooming shop who takes revenge on the man who landed him in jail.
Kazakhstan's Samal Yeslyamova won the best actress award for her role as an illegal immigrant in Russian-born director Sergei Dvortsevoy's "Ayka."
Italy's Alice Rohrwacher shared the festival's best script award for her film about a young man who time travels after an accident in "Happy as Lazzaro" with Jafar Panahi und Nader Saeivar for the Iranian film "Three faces."
Speaking at Saturady's ceremony, Blanchett paid tribute to Panahi and Russian director Kirill Serebrennikov, who were prevented from travelling to Cannes to present their films at the festival.
While Panahi is banned from leaving Iran after years of conflict with the authorities in Tehran, Serebrennikov is under house arrest in Russia on suspicion of embezzlement.
Notepad
Cannes, France

(dpa)

-
Prizes awarded Saturday at the Cannes Film Festival:
Palme d'Or for best film: Hirokazu Kore-Eda - "Shoplifters" - Japan
Grand Prix: Spike Lee - "Blackkklansman" - United States
Jury Prize: Nadine Labaki - "Capernaum" - Lebanon
Special Palme d'Or: Jean-Luc Godard - Switzerland/France
Best director: Pawel Pawlikowski - "Cold War" - Poland
Best actor: Marcello Fonte - "Dogman" - Italy
Best actress: Samal Yeslyamova - "Ayka" - Kazakhstan
Best screenplay (shared): Alice Rohrwacher - "Happy is Lazzaro" - (Italy); Jafar Panahi und Nader Saeivar - "Three Faces" - Iran
Camera d'Or for best debut film: Lukas Dhont - "Girl" - Belgium
Best short film: Charles William - "All These Creatures" - Australia