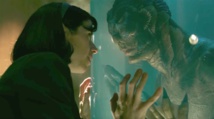 Mexico-born Guillermo del Toro's "The Shape of Water," a film about a mute cleaning lady who falls in love with an imprisoned merman and featuring a motley crew of underdogs, also won best original score and best production design.
Other films to win big were "Dunkirk," depicting the British effort to rescue Allied soldiers trapped on the beaches of Dunkirk in 1940, which won three awards, as well as "Three Billboards Outside Ebbing, Missouri" and "Darkest Hour," which snagged two each.
The Pixar animation "Coco," the Mexican-influenced story of a boy who crosses over into the land of the dead as he chases his dreams, won in two categories.
Best foreign language film went to Chile's "A Fantastic Woman," a drama starring transgender actress Daniela Vega. Jordan Peele became the first black writer to win the gong for best original screenplay for his film debut "Get Out."
The awards for best supporting actress and actor went respectively to Allison Janney in "I, Tonya," based on the life of figure skater Tonya Harding, and Sam Rockwell as a corrupt police officer in "Three Billboards."
Many actors and performers chose to raise political issues, and host Jimmy Kimmel hailed the Time's Up movement against sexual harassment in the workplace, set up in response to revelations of systematic sexual assault by disgraced movie mogul Harvey Weinstein.
Hollywood can't "let bad behaviour slide any more," Kimmel said as he opened the ceremony at the Dolby Theater in Los Angeles. "What [the women] are doing is important, and things are changing for the better."
Picking up the best actress gong for her role in "Three Billboards," the story of a determined mother fighting to find the man responsible for the rape and murder of her daughter, Frances McDormand asked all the female nominees to stand with her.
"Look around - we all have stories to tell and films that we need financed," said McDormand, whose speech drew a standing ovation and seemed to overshadow Gary Oldman's best actor Oscar award for his role as British prime minister Winston Churchill in "Darkest Hour."
Actresses on the red carpet also spoke out in favour of the movement, with Ashley Judd - one of Weinstein's first public accusers - saying that her work as an activist was about "externalizing the shame and putting it back where it belongs - with the perpetrators."
"We women want our voices heard," she said.
Margot Robbie, nominated as best actress for her title role in "I, Tonya," said that the movement was opening up Hollywood for films with "female protagonists who are strong in some ways and extremely flawed in others, [which] is much more accurate and engages audiences more."
But actors and performers also drew attention to other political issues, with Lupita Nyong'o and Kumail Nanjiani - both actors with immigrant backgrounds - speaking out in favour of Dreamers, undocumented migrants who arrived in the US as children.
President Donald Trump decided last year to scrap a programme shielding them from deportation.
"Dreams are the foundation of Hollywood and dreams are the foundation of America," said Mexico-born Nyong'o, with Pakistani-American Nanjiani adding, "To all the Dreamers out there, we stand with you."
Filmmaker Greta Gerwig, who handed the best documentary film award to "Icarus," said reality-based films were particularly important in the current climate in order to determine "what is real, what is authentic and what is fact."
US rapper Common also voiced his support for young immigrants during his Oscars performance, as well as slamming the National Rifle Association (NRA) after weeks of debate over the powerful lobbying group's oversized influence on US gun culture.
"Tell the NRA they're in God's way, to the people of Parkland we say ashay," Common rapped, referencing a deadly shooting at a Florida high school last month that galvanized proponents of gun control.