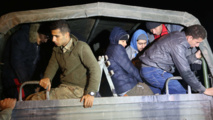 Broadcaster Skai showed footage of clouds of tear gas in Kastanies on the Greek side, where clashes with migrants trying to stay in Greece have taken place almost daily since February 29.
Turkey started deploying a 1,000-strong special force police along the border with Greece, broadcaster Haberturk reported on Friday. The units will patrol on boats on the river Evros, known as Meric in Turkey, to stop migrants being returned to Turkey.
Turkish broadcaster NTV showed Turkish police, wearing commando masks and carrying rifles, walking alongside Greek police on both sides of a wired fence. Both forces were accompanied by armoured vehicles.
Some 5,000 refugees were reported to be waiting at the Pazarkule border crossing on the Turkish side.
Ankara "doesn't have time" to discuss with Athens whether the gates can be closed, President Recep Tayyip Erdogan said, in remarks carried by his office.
"That business is now over. We have opened the gates. Refugees will go as far as they can," Erdogan told reporters on a plane back from Moscow, where he inked a ceasefire deal for north-western Syria with his Russian counterpart, Vladimir Putin.
He later instructed the coastguard to no longer allow migrants to attempt to cross the Aegean Sea to the European Union, citing their safety.
"Illegal migrant crossings via the Aegean Sea are not allowed for it is dangerous," said a statement from the coastguard, citing a presidential order.
The Interior Ministry will oversee the implementation of the order.
The coastguard accused Athens of breaking international law by putting migrant boats at risk, saying it rescued nearly 100 migrants from three boats on Thursday that had been left half-sunk by Greece.
Fierce fighting in Idlib over recent weeks has caused hundreds of thousands of people to flee towards Turkey, which already hosts some 3.6 million Syria refugees within its borders. Turkey says it has not had enough help from the EU to deal with the migrants.
Erdogan accused Greece of "oppressing" migrants and claimed at least five migrants were killed in Greek border police fire.
Athens has denied those claims.
Europe's borders with Turkey are "not open," EU foreign policy chief Josep Borrell said on Friday.
"Don't go to the border; the border is not open," Borrell said following an emergency meeting of EU foreign ministers in Zagreb on the conflict in Syria and Turkey's related actions.
In a statement issued after their talks, the EU foreign ministers call on Turkey to "implement fully" the 2016 migration deal struck with Brussels, noting that it produces "tangible results, including by supporting Turkey's significant efforts in hosting migrants and refugees."
The 2016 migration pact had stipulated Ankara stem the flow of migrants to Europe, in return for EU funding to integrate Syrian refugees in Turkey.
Erdogan charged that the bloc has so far failed to share the burden on Turkey, which hosts 4 million migrants, the majority from Syria.
Turkish Interior Minister Suleyman Soylu tweeted that more than 142,000 migrants have crossed into Greece since the borders were opened. Athens maintains it is not allowing any migrants to enter.
A dpa reporter in Kastanies saw no migrant groups coming through, but neither of the two sides' claims could be verified.
Greek Prime Minister Kyriakos Mitsotakis' measures at the border have been criticized by rights groups but he has received support in the European Union.
Meanwhile, Turkey deported on Friday the anti-immigrant leader of the Sweden Democrats party, Jimmie Akesson, after he handed out leaflets telling migrants at Pazarkule not to go to Sweden, state news agency Anadolu reported.
Police took him to Istanbul Airport and put him on a scheduled flight to Copenhagen, it said.
Swedish public broadcaster SVT reported Akesson distributed flyers to would-be migrants saying Sweden is "full."