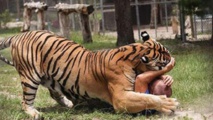 The tigress, known officially as T1, was killed in the region late on Friday after a three-month search, senior police officials confirmed.
The state forest department had hired an expert hunter and sharpshooter and mounted an extensive operation involving nearly 200 personnel, trap cameras, drones, a pack of trained sniffer dogs and a hang-glider to trace her, broadcaster NDTV reported.
The hunters had used an American perfume that has chemicals which mimic civetone, a pheromone secreted by civets, after experiments in the US suggested it could be used to attract big cats.
In September, the Supreme Court refused to suspend shoot-on-sight orders for Avni, mother to two 10-month cubs, prompting a flurry of online petitions.
The forest department in a statement released later Saturday said the shooting team positioned themselves by a road near the forest after villagers spotted the tigress prowling in the area.
The team shot Avni with a tranquilizer dart, but the cat then charged on their open jeep.
"In a reflex action of self defence, the shooter fired from a distance of 8 to 10 metres. The tigress died on the spot," the statement said.
Wildlife activists went online to protest Avni's killing, saying the forest department could have captured her instead of killing her, which orphaned her cubs.
Elsewhere TV footage showed locals celebrating and distributing sweets, saying they were relieved that that the terror unleashed by the tigress was over.
"Avni was killed illegally satisfying a hunter's lust for blood," said People for the Ethical Treatment of Animals. It said India's Wildlife Protection Act and National Tiger Conservation Authority's rules had been flouted, calling for the matter to be "investigated and treated as a wildlife crime."
DNA evidence had linked Avni to 5 of the 13 deaths in Yavatmal, NDTV reported. Forest surveyors said there was a male tiger in the forest whose DNA was found on one of the bodies.
India is home to the world's largest number of tigers in the wild. The count was at 2,226 in 2015, according to India'a National Tiger Conservation Authority.