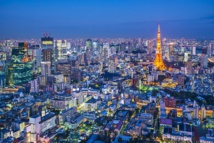 Tokyo (dpa) – Japan celebrates the 1,000 days to go milestone on Saturday but there are issues to be solved before Tokyo hosts the Olympic Games in 2020.
Olympic athletes joined a countdown event in Tokyo, with festival floats and talk shows drawing onlookers and TV cameras. Similar events will be also held in other cities until November 29.
"It's finally 1,000 days until the Olympics," Tokyo Governor Yuriko Koike said at the event. "I want everyone to become excited and become engaged."
The world's top athletes are scheduled to compete in a record 33 categories and 330 events at the Tokyo Olympics, which will be held from July 24 to August 9 in 2020.
Tokyo, which hosted the 1964 Games, will be the first Asian city to host the Olympics twice. The Games will be Japan's fourth Olympics as Sapporo and Nagano hosted the 1972 and 1998 Winter Games, respectively.
In Tokyo and other major cities, more hotels are being constructed to accommodate a growing number of overseas visitors. The Japanese government is aiming to attract an 40 million foreign tourists in 2020, when Japan will host the Tokyo Olympics and Paralympics. In 2016, the country received a record 24 million from abroad.
Some railway and subway stations in Tokyo are being refurbished to get ready for the world's biggest athletic event.
The Olympic main stadium is also being built in the heart of the Japanese capital with its completion set for November 2019, two months earlier than the deadline imposed by the International Olympic Committee (IOC).
The issue of the main stadium is one of a series of controversies that have plagued Tokyo organizers. In July 2015, Prime Minister Shinzo Abe decided to abandon the initial design by late Iraqi-British architect Zaha Hadid amid a public outcry over its soaring cost.
Tokyo also withdrew its original 2020 Olympics logo two years ago after its designer was accused of copying it. The new official emblem was picked last year.
Some venues have moved out of Tokyo though organizers at first promised a "compact" Olympics, a main selling point to win the bid to host against Istanbul and Madrid.
In fact, the IOC announced in June that the first baseball game and the first softball game involving Japan will be held in the city of Fukushima, 60 kilometres north-west of the Fukushima Daiichi Nuclear Power Station – the site of Japan's worst nuclear disaster in March 2011.
Tokyo organizers have been hit by surging costs as the estimated bill has doubled to 1.39 trillion yen (12.2 billion dollars) since the city won the bid in 2013.
Earlier this month, visiting IOC coordination committee chairman John Coates urged organizers to further reduce costs by 1 billion dollars.
"We intend to advance concrete discussions, without falling into abstract argument," Yoshiro Mori, head of the Tokyo organizing committee responded.
Tokyo organizers are now considering reducing the size of the athletes' village, which is planned to hold 18,000 beds, and cutting the hours of service including that for the cafeteria.
To cut costs, Japanese officials hope more citizens will be involved in volunteering at the 2020 Olympics.
"The key to success of the Tokyo Games is for people from all over Japan to be interested and become willing to be involved in them," Olympic Minister Shunichi Suzuki said.