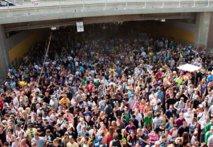 Judges at the district court in the western city of Duisburg had already recommended in early April that the trial be terminated then. Coronavirus restrictions have disrupted scheduled hearings, while a July deadline regarding the statute of limitations loomed for this case.
On July 24, 2010, panic erupted in an overcrowded access tunnel to the Love Parade techno music festival's grounds in Duisburg. Nineteen people were immediately crushed or trampled to death, and two others later died in hospital. More than 650 people were injured.
The trial started in December 2017. Three remaining defendants from the Lopavent organizer had still been facing charges of involuntary manslaughter and negligence leading to personal injury.
Legal proceedings against seven other defendants were terminated in February 2019 because the court felt that convictions were unlikely to be secured.
The three remaining defendants had already rejected an offer to end the trial back in February 2019 in return for a fine, with one insisting that they be found innocent.
The last hearing took place on March 4, after which the trial was indefinitely adjourned because one of the judges had to go into precautionary home quarantine.