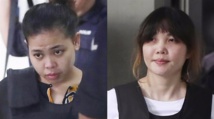 "The true perpetrators have escaped. I don't think they will be brought to justice," Gooi Soon Seng, the lawyer for Indonesian suspect Siti Aishah, told dpa Monday.
Kim Jong Nam was killed at Kuala Lumpur's international airport on February 13, 2017. The only two suspects in custody are Aishah, 25, and Doan Thi Huong, a 29-year-old Vietnamese.
The two women are accused of wiping a highly toxic chemical VX nerve agent on Kim's face, leading to his death. Their lawyers said they thought they were carrying out a television prank.
Both women pleaded not guilty of murder on the first day of their trial on October 2.
In November a police officer told the court that four other suspects believed to be involved in the plot to murder Kim were North Koreans who fled Malaysia on the day of his death.
Video footage shared in court showed Aishah and Doan meeting two men who smeared liquid on the suspects' hands.
If found guilty, the women could face the death penalty - but not if the judge decides they lacked the intent to kill.
"We are confident that the girls will not be hanged," Gooi told dpa.
The trial resumes on February 22, and Gooi said he expects the prosecution stage to conclude by April or May.
Notepad