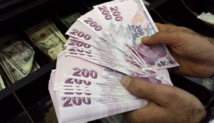 The fall came after official data showed Turkish consumer prices increased by 11.77 per cent in August compared to the same month last year, reversing a slight recovery from the previous month.
The high inflation was led by and increase in price of services, food and health services, the Turkish Statistical Institute (TurkStat) said.
Among the worst performing emerging market currencies, the lira has lost more than 20 per cent of its value versus the dollar since the beginning of 2020.
Turkish economy is already fragile and contracted by 9.9 per cent year-on-year in the second quarter of this year, mostly due to the adverse impacts of the coronavirus pandemic.
In a tweet, London-based emerging markets analyst Timothy Ash called the August data "disappointing" and said it showed the Turkish central bank "essentially lost the fight against inflation, or sees it as low priority over growth."
The central bank kept its benchmark interest rate unchanged at 8.25 per cent last month despite calls to hike rates to shore up lira.
The bank's next rate-setting meeting is scheduled for September 24.