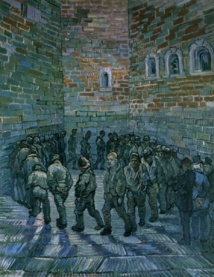 "The Hill of Montmartre with Stone Quarry," dating back to March 1886, has been confirmed as a Van Gogh piece, Amsterdam's Van Gogh Museum said in a statement on Tuesday.
The discovery led to another artwork, titled "The Hill of Montmartre" and also dated 1886, being attributed to Van Gogh after having been previously rejected.
The two works were found to share "an unmistakable connection" on the basis of their subject, size, style, technique and the materials used, the statement said.
"It is fantastic news that two drawings can now definitively be added to Van Gogh's oeuvre," museum director Axel Rueger said.
"The Hill of Montmartre with Stone Quarry" belongs to a private foundation but is now to go on display together with the second drawing as part of the museum's exhibition, Impressionism and Beyond: A Wonderful Journey.
The drawings "aptly illustrate how the artist was still very much seeking his own style in the winter/spring 1886 period," Teio Meedendorp, senior researcher at the Van Gogh Museum, explained.
Van Gogh spent this period first in Antwerp before moving to Paris, where he finished many works.
There are over 200 known drawings by Van Gogh, more than half of which are owned by the Amsterdam museum. The last drawing to be discovered was in 2012.