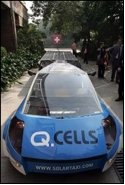 UN chief Ban Ki-moon on Friday touted his commitment to promoting alternative energy sources by commuting to work aboard a fully solar-powered taxi.
"I hope that this Solartaxi, one of the alternate sources of energy, can give some good messages to the people around the world that we need to be creative, we need to be practical," he told reporters as he arrived at UN headquarters.
"This is a fantastic experience. I hope I can enjoy another ride," he added, noting that he waved at passersby on New York streets from a Solartaxi during his 10-minute trip.
The green commute was part of Ban's efforts to raise awareness about climate change and to promote environmentally-friendly technologies.
The Solartaxi, the brainchild of 37-year-old Swiss engineer Louis Palmer, is currently in New York as part of a worldwide tour that included a stop in Bali, Indonesia, last December for the landmark climate change conference.
The journey, an initiative backed by Switzerland, is slated to wrap up in the Polish city of Poznan in early December to coincide with the next phase of international talks on steps needed to respond, mitigate and adapt to global warming to be held in the Polish city.
"This Poznan conference should serve as a very successful bridge to the Copenhagen meeting (on climate change) next year so that we will be able to agree on a globally accepted, a very efficient, balanced, effective and ratifiable treaty replacing the Kyoto Protocol by 2012," Ban said.
Palmer, the Solartaxi's driver and developer, said he was on a mission to show that solutions exist to tackle the effects of climate change.