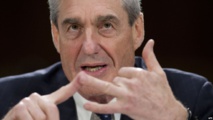 The defendants allegedly hacked into computer networks and installed malicious software that allowed them to spy on users and capture keystrokes, take screenshots and remove data. They also are charged with using a technique known as "spearphishing," which involves sending misleading email messages and tricking users into disclosing their passwords and security information.
The conspirators created fictitious online personas, including "DCLeaks" and "Guccifer 2.0," to release thousands of stolen emails and other documents beginning five months before the election.
The indictment says the defendants attempted to conceal their connections to Russia by using a network of computers located around the world and paid for the activities with cryptocurrency.
The indictment also describes an alleged second conspiracy in which Russian GRU officers hacked the website of a state election board and stole information about 500,000 voters. The officers also allegedly hacked into computers of a company that supplied software used to verify voter registration information.
Charges listed in the indictment include conspiring to access computers without authorization, causing damage to those computers, aggravated identity theft and money laundering. It also seeks the forfeiture of property involved in the criminal activity.
Rosenstein cautioned against politicizing the indictment.
"The blame for election interference belongs to the criminals who committed election interference," he said.
----------------------------
Moscow

(dpa)

-
Russia did not interfere and had no intention of interfering in the 2016 US presidential elections, a Kremlin official says, after indictments against 12 Russians were announced in the United States.
"When the Americans have facts, we will take a look - that's what our president has said multiple times," said Yuri Ushakov, Russian President Vladimir Putin's foreign policy adviser.