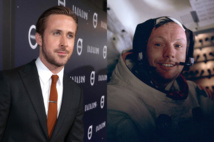 At a press advance screening ahead of a star-studded gala premiere, the movie was given a positive - but not rapturous - welcome.
In a press conference, Gosling said Armstrong "didn't view himself as an American hero, and we wanted the movie to [...] honour the way Neil presented himself."
British actress Vanessa Redgrave, 81, was also set to make an appearance at the festival's opening night, to receive a career award.
Other films due for a premier during Venice's 11-day programme include the latest work by cult US brother-directors Joel and Ethan Coen, a Western called "The Ballad of Buster Scruggs."
The film is another Golden Lion contender, along with Alfonso Cuaron's Mexican family saga "Roma," and "Suspiria," a remake of a 1970s Italian horror by Luca Guadagnino, director of the 2017 critics' favourite "Call Me by Your Name."
Festival organizers have been criticized for selecting only one movie directed by a woman - Jennifer Kent's "The Nightingale" - amid the roster of films vying for the top prize.
Jury President Guillermo Del Toro recognized the issue, personally endorsed the 50/50 by 2020 Movement, which campaigns for gender equality and diversity in the film business. He said he was trying to set an example.
"As a producer, I'm producing five movies right now, three of them from female directors, two of them from first-time directors," the Mexican director said in a press conference.
Out of competition, one of the most anticipated movies is "A Star is Born," the directorial debut of US actor Bradley Cooper, starring singer Lady Gaga.
Venice hosts the world's oldest film festival and its recent editions launched films that went on to win the Best Picture Oscar, such as, last year, Del Toro's "The Shape of Water"
"The Shape of Water" also won the last Golden Lion. Del Toro's nine-member jury is set to announce this year's prizes on the festival's closing night, on September 8.