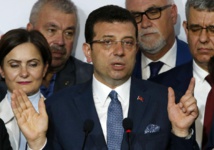 The game features an animated character of the popular opposition candidate for mayor of Istanbul struggling to get his mandate following what has been a highly contested race.
The online game - called 'Mazbata' (Mandate in Turkish) - is available on mazbata.online.
It has become a platform where people fed up with the prolonged election process in Istanbul can find fun and relief, its developer Emre Senkal told dpa.
"People like the idea of celebrating a win, even in the virtual world, for Ekrem Imamoglu," Senkal said, referring to the Istanbul mayoral candidate of the opposition Republican People's Party (CHP).
Senkal says his initial aim was to add some satire into ongoing political debates, loaded with accusations of fraud.
"I want him to win in the real world too. I am happy this game helped add some color and support to Imamoglu's struggle."
The Super Mario-like character jumps over obstacles to collect votes, featured as ballot boxes, to eventually obtain electoral victory. "I urge the Supreme Electoral Council to do its duty," Imamoglu says as he recovers one box.
Preliminary results show Imamoglu ahead of his rival from the ruling Justice and Development Party (AKP) in the March 31 mayoral race.
The final verdict, however, has yet to be made after nearly two weeks. The country's election authority YSK is to conclude on objections from the AKP over alleged irregularities.
President Recep Tayyip Erdogan's AKP has requested the YSK call for a new election in Istanbul while a recount of mostly invalid votes has been going on.
On Monday, Erdogan alleged "organized crime" in Istanbul's local polls, including fake voter registrations in Buyukcekmece district.
"Istanbul has not a single day to lose while waiting (for election results)," Imamoglu told reporters in Istanbul on Friday, dismissing the AKP allegations as "comical."
A defeat in Turkey's most-populous city and economic powerhouse Istanbul would be a major setback for the AKP and Erdogan.
Erdogan already lost the mayoral seat of the capital Ankara to the CHP. Both Istanbul and Ankara have been ruled by Islamic conservatives for 25 years.
Notepad