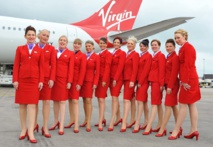 "We have weathered many storms since our first flight 36 years ago, but none has been as devastating as Covid-19 and the associated loss of life and livelihood for so many," he said.
Virgin's move followed British Airways' announcement last week of plans for up to 12,000 redundancies, and a warning from low-cost carrier Ryanair that it could cut up to 3,000 jobs.
"Why is the government sitting on its hands while aviation plunges further towards a death spiral?" Brian Strutton, general secretary of pilots' trade union BALPA, said following Virgin's announcement.
BALPA wrote an open letter to the government on Monday, calling for urgent action to mitigate the "crisis in aviation."
Virgin group founder Richard Branson warned last month that the airline needed government loans to keep operating.
Asked about the problems in the industry on Tuesday, a spokesman for Prime Minister Boris Johnson's office said the government "continues to work closely with the [aviation] sector."
The government is "willing to consider the situation of individual firms once all other government schemes and commercial options have been explored, including raising capital from existing investors," the spokesman said.
Virgin vowed to "explore all available options to obtain additional external funding," adding that it was in "constructive discussions with several stakeholders, including [the] government."
Weiss noted that Virgin had taken similar cost-cutting measures after the "9/11" terrorist attacks on the United States in 2001 and the 2008 global financial crisis, but many redundant staff were "back flying with us within a couple of years."
Virgin said it plans to suspend operations at London's Gatwick, Britain's second-busiest airport, and move them to the larger Heathrow airport.
It said wants to "retain its slot portfolio at London Gatwick, so it can return in line with customer demand."
BA also wrote to staff last week to warn that it might not resume operations at Gatwick, the Financial Times reported.