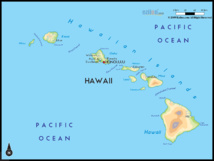 Some parts of the Big Island, which has been plagued with high volcanic activity since May, received nearly 1 metre of rain, setting off flash floods and mudslides and washing out roads.
Downgraded in less that 48 hours from a category-4 hurricane - the second-strongest rating on the wind-based scale - to a tropical storm, Lane was about 175 kilometres south-west of Honolulu, moving to the north-west and forecast to turn later Saturday towards the west, the National Weather Service said.
The circular storm was moving less than 5 kilometres an hour but expected to speed up as it moves further from Hawaii.
Outer bands of rain from Lane were continuing to drop precipitation on the already drenched islands. Tropical storm warnings were lifted as Lane moved away, although flash flood warnings remained in place for coastal areas.
High surf was continuing to batter southern coasts on Saturday on the islands but expected to ease by Sunday.
Workers were restoring power outages on the Big Island, Maui, Molokai, Lanai and Oahu.
Authorities were providing water tankers for residents in parts of Maui, where flooding washed out a water main.
The Weather Channel reported that Lane was the fourth-rainiest tropical cyclone recorded in the United States since 1950.