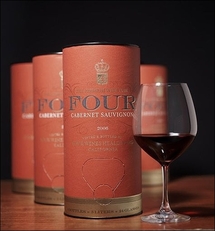 FOUR wine is marketing its Cabernet Sauvignon/Petite Sirah blend in three-liter (three-quart) canisters. Cheap wine has been sold worldwide for years in cardboard boxes but FOUR claims this is the first time a premium California wine has broken out of its glass house.

Brand manager Larry Leigon said the tubes are more eco-friendly and less expensive than bottles.

The wine can last longer after being opened, he added. Less oxygen enters through the tube and its spout than a bottle whose cork has been popped.

Leigon is no stranger to innovation, having helped pioneer the production of premium non-alcoholic wine at Ariel nearly a quarter-century ago.

"Glass was an innovation in the 1400s or 1500s," he said in an interview at the Grove Street Winery in Healdsburg, Sonoma County where FOUR is bottled -- or rather, bagged.

"If we do this correctly, we can change the tradition and make it better. There's a tradition that can grow up around this tube, too."

Some French winemakers, not surprisingly, are skeptical of storing premium wine in a tube.

"I don't see the point. People drink wine with food and you put the bottle on the table. Round cartons are for milk," said Alain Vauthier, owner of Chateau Ausone in Saint Emilion, part of the Bordeaux winemaking region.

"For a good wine you need good dark glass and a high quality cork. I would also question the durability of cardboard. We have bottles here at the chateau of Ausone from 1849 that taste wonderful. That wouldn't happen in cardboard.

"For cheaper wines consumed within two or three years, yes, you can put them in cardboard tubes, but not high quality wines that need 10, 20, 30 or more years of keeping."

The FOUR tubes -- which can hold the equivalent of four bottles of wine -- are 28.5 centimeters (11 inches) tall (slightly shorter than a standard wine bottle) and 13 cm (5 inches) in diameter.

Everything is recyclable, and the company that makes the bags that hold the wine inside the tubes -- Smurfit Kappa of Epernay, France -- claims a three-liter (three-quart) tube is six times lighter than four 750ml (25.4 fluid ounces) wine bottles.

Producing and transporting tubes is less expensive and requires fewer resources than bottles, which allows FOUR to charge about 40 dollars per tube and to reduce its carbon footprint.

"I'm a great believer in the romance of the bottle and the cork, I love that. And there will always be a place for that," said Bill Leigon, Larry's brother and business partner.

"But not if I'm doing that at the expense of my environment."

The Leigons and winemaker Barry Gnekow eventually hope to market four varietals under the FOUR label -- two reds and two whites. The first run of 10,000 tubes in October is selling well, they say, and another run of 6,000 tubes is planned for late January.

FOUR is set to launch internationally at the ProWein trade show in Dusseldorf, Germany, in late March.

The Leigons originally assumed their market would be restaurants and larger venues, such as conference centers and sports arenas -- places where many customers buy by the glass and never see the container -- but they also hope the tube looks good enough to sit on the back bar at wine bars and taverns.

They are talking to US Airways about using FOUR tubes on airline drink carts, and are also now selling to retail wine stores.

Yet a quick survey of downtown Healdsburg found no evidence of FOUR at a couple of bottle shops, a restaurant or a bar.

None of the four establishments had heard of FOUR, and there was some skepticism mixed in with a willingness to try something new.

Mark Friedrich, assistant manager of The Wine Shop, said tubes are a great idea for storing and transporting wine, but acknowledged drinking wine is also about perception.

"If you're taking your wife out to a fancy restaurant and blowing the budget, do you want the waiter to unscrew the cork or undo the spout?" he asked. "At the higher end of the market, I think (tubes) will never be there."