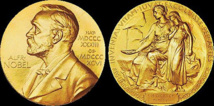 The organization was formed in protest and to fill the void after the Swedish Academy in May announced it would not award the Nobel Literature Prize for the first time in decades.
The Swedish Academy cited the need to regroup and restore trust after a sexual harassment scandal created a deep rift.
The New Academy invited Swedish librarians and other readers to vote for their favourite candidates for the New Academy Prize in Literature.
This resulted in a list of 47 authors that was whittled down to a shortlist that now comprises three finalists: Vietnamese-Canadian author Kim Thuy, British-American Neil Gaiman, and Maryse Conde of Guadeloupe/France.
Montreal-based Kim Thuy won the 2010 Governor General's Award for French-language fiction for "Ru," her debut novel about a refugee forced to leave Vietnam.
Conde is known for her works of historical fiction, including "Segu."
Gaiman, a prolific author and screenwriter, won acclaim for his comic book series "The Sandman."
The New Academy said it planned to dissolve after the award ceremony due December 9, the eve of the traditional Nobel Prize award ceremony.
Notepad