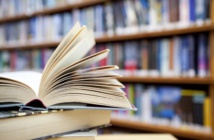 Organizers say the event continues to grow, with 3 per cent more exhibitors in 2018 than last year. In 2017, more than a quarter of a million people visited the book fair.
But sales of books in Germany fell by 1.1 per cent year on year in the first nine months of 2018; in 2017, revenues fell by 1.6 per cent compared to the previous year to 9.13 billion euros (10.44 billion dollars).
Despite the drop, Riethmueller said the industry could feel a change of mood: "Even book defectors value books and have a craving for them," he said. "However they read less in the hassle of everyday life, stressed as they are from social media and distracted by other formats of entertainment."
Riethmueller said he was optimistic that book sales would pick up in the autumn and in the all-important Christmas season.
Book fair director Juergen Boos stressed the societal importance of the book fair: "The book fair is a place of freedom, where people from all over the world come together to raise their voices, a place of mutal respect," he said.
The fair will "contribute to understanding, dialogue and peaceful cohabitation in a pluralistic society," Riethmueller said.
Boos said that there had been an increase in exhibitors from overseas, including 34 from 19 different African countries.
Nigerian author Chimamanda Ngozi Adichie was the main guest at the opening press conference on Tuesday morning.
In the evening the European Union's foreign policy chief, Federica Mogherini, is scheduled to address the official opening ceremony.
This year's guest country is Georgia, which is featured in its own pavilion. Georgian Prime Minister Mamuka Bakhtadze is expected at the evening's launch ceremony.
The 70th annual Frankfurt Book Fair is scheduled to run from Wednesday until Sunday, with the first few days open to professionals and the weekend open to the general public.
The programme lists some 3,700 events over the course of the fair, with 9,800 reporters accredited to cover the fair.
Ahead of the opening of the fair, Berlin author Inger-Maria Mahlke was awarded the German Book Prize for her novel "Archipel" (Archipelago) by the German Publishers' and Booksellers' Association.
The jury that awarded Mahlke the prize, which is worth 25,000 euros (28,500 dollars), described her novel as an "impressive event" in German literature.
"This is where colonial history and the history of European dictatorships in the 20th century coalesce," the jury said of the book, which tells the story of three families from different social classes in Franco-era Spain.