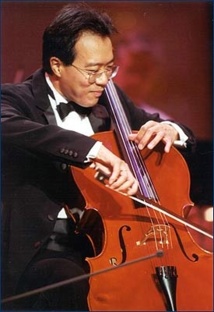 The most important cello player in the world captures the hearts of the audience
----------------------------------------------------------------------------------------------------------

We saw Ma with his colleague the talented British pianist, Kathryn Stott; both in the best shape and unpretentious attire. He was playing his preferred instrument and enjoying every note while expressions on his face revealed his simple and emotional feelings. Sometimes he was happy and joyful; at other times he was sad and downcast as if he was talking to each spectator individually.
The program started with the " Italian Suite" by Stravinsky for cello and piano based on an orchestral piece for the ballet " Pulcinella" composed by Stravinsky using the beautiful melodies of the Italian baroque opera " Il Flaminio" by Pergolesi. The style is classical and completely different from the modern compositions that made Stravinsky famous in the first half of the 20th century. Stravinsky kept Pergolesi's melodic and base line but supplied his own harmony with rhythmic vitality. Yo-Yo Ma's choice of this piece, which he performed superbly with Stott, demonstrated his deep knowledge of all kinds of music and confirm his avant garde position in trying a variety of styles and continuing his perennial dialogue with his audience.
The following pieces he played reconfirm and remove any doubt about his vast repertoire. He moved from classical music to contemporary Latin American serious music and presented "Alma Brailiera " (Brazilian soul) by Villa-Lobos adapted for cello and piano from the original solo piano. It shows a new form of musical composition in which different modalities of Brazilian Indian and popular music are synthesized. This was followed by " Oblivion" by the Argentinian composer Piazzola who died in 1992. The style combines tango, jazz and classical music and turn the melodies into fiery, passionate and melancholic lyric with endless supply of rhythmic energy. Following that we heard " Dansa Negra" by the Brazilian composer Guarnieri arranged for cello and piano and inspired by the folk music of Brazil's black population. The second part of the program contained a religious piece by the contemporary French composer Messiaen called " Louange a l'Eternite de Jesus" from the Quartet " End of Time". Its slow rise to a supreme point evoked an atmosphere of mysticism, with warmly expressive and free flowing reading. At the end, Yo-Yo Ma and Stott turned back to classical music and brilliantly played the Violin Sonata no. 3 (arranged for cello and piano) by Brahms emphasizing the passionate expression of Brahms' finest music.
One rarely enjoys a program so diverse and original. No wonder, because Yo-Yo Ma is fascinated by all kinds of music. After recording more than 75 albums in his career, 15 of which received the Grammy Award in the US, he started, a few years ago, the Silk Road Project. It is an organization that aims to promote cultures and traditional arts in the countries where the old commercial route extended from China to Syria and Lebanon and connected the old world and civilizations through art and music. One of the " products" of this model Project is a piece written by the Lebanese composer Rabie Abu Khalil played by Yo-Yo Ma with the Iranian soloist, Kayhan Kalhor on the oriental violin ( kamancheh). The title is as evocative and unusual " Arabian Waltz " as it could be. Ma has collaborated in his caravan of life with different players from various countries, performing from Chinese melodies to Argentinian tango and Brazilian music as shown in his famous album " Obrigado Brazil " (Thanks Brazil) extending to American Bluegrass of Bobby Mc Ferrin, which is a fusion of jazz, blues, and country music.
It is astonishing that the cello instrument Ma owns is valued at $ 2.5 million. For me it has an unforgettable story. Once I met Yo-Yo Ma by chance after a concert at Rome University. He was accompanied by other famous colleagues who played chamber music with him. They were the late violinist Ishac Stern and the pianist Emanuel Ax. All three were stuck because the rented car they had hired stopped, and the driver could not start the almost dead battery on a cold night. I offered to give them a ride in my car to the restaurant where they were supposed to have dinner after the concert. Ma accepted without hesitation, opened the truck and pushed in his valuable cello. At that moment, the driver managed to start the battery, so they apologized and went with him. My reward was a gift from Yo-Yo Ma I received unexpectedly a week later containing his latest album with special dedication and his signature. This demonstrated his kind nature, politeness and good manners as well as being " simpatico " (pleasant, likeable) as the Italians say.
At the concert Ma was nice and charming as usual and behaved in a natural happy way. His stature nowadays can be compared to that of top cellists on the global level such as the Russian Rostropovich, the Spanish Pablo Casals, the French Pierre Fournier, and the British Jacqueline du Pre. He distinguishes himself by his flowing, rich tunes and his more flexible style since he feels comfort and personal joy when he plays. You sense he is so spontaneous in addressing the hearts of his spectators and communicating with them directly.
Another exciting story is about how he met his colleague, the pianist Kathryn Stott. In 1978, Ma was not as famous or prosperous as he is now. He rented with his wife when they were in London a simple apartment for a few weeks where he could practice his cello playing. Suddenly, the door opened and a surprised woman saw him playing in his underwear on a hot afternoon. She asked him: who are you ? and he replied with a dry tone: But who are you to enter without permission ? Stott informed him that she had rented the apartment with her companion who did not tell her that he had sublet the apartment to Ma. The misunderstanding changed into friendship and later continuous collaboration for over 30 years when Ma discovered her gift in piano playing and her interest in French and Brazilian music about which she organizes important festivals in England.
Ma has an extraordinary developed sense of music and extreme intelligence since his childhood. In Paris, he started playing the cello in public since he was six years old. After his parents moved to the USA, he joined the best musical institute, the Juilliard School, then completed his studies at Harvard University. He appeared on TV accompanying the well- known conductor, Leonard Bernstein,g which brought him fame and recognition. Later he bought the expensive historical cello of Jacqueline du Pre, the Italian Stradivarius made in 1712, with its high sound quality which could not be explained or equaled.
Yo-Yo Ma is an international artist by all means. He searches all kinds of music to get cultures closer to each other. He participates in playing with authentic local artists in the countries he visits to learn about the techniques and secrets of playing different instruments. His last tour in California especially in San Diego and Santa Barbara guaranteed constant admiration amongst his fans particularly when the purest and most tender tunes emerge from his hands with the strongest and loudest effect.