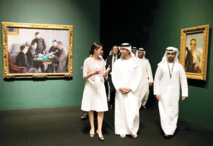 Several visitors said they had waited two hours to be allowed into the futuristic building in the Gulf state. They weren't disappointed.
Many were impressed by the 180-metre-long dome, designed by French star architect Jean Nouvel, that spans over the temple to art.
"You really feel proud when you see that your country can do something like that," said Abdulla Al Jaberi, an Abu Dhabi resident who came to the high-class opening with his art-obsessed daughter.
Jaberi said he especially liked how the building's modern architecture incorporated aspects from the region's Emirate culture.
Graphic designer Hessa Ali Al Joker, from Dubai, said she felt the new museum meant Europe must no longer be the only destination for great art. "Now I can see art with my spirit in my environment."
The Louvre Abu Dhabi is the first museum with universal claim to the Arab world. The history and shared cultures of the people will be emphasized over the building's more than 6,000 square metres.
The project between Abu Dhabi and France was sealed in 2007, with the Emirate country paying more than 1 billion dollars for the "Louvre" name, loans and expertise. Construction was, however, delayed by several years, with the opening date pushed back several times.