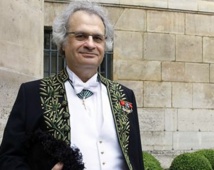 Born in Lebanon in 1949, Amin Maalouf, holds a degree in economics and sociology from Beirut University. He worked in the Beirut-based daily Al-Nahar newspaper, reporting on international and political affairs. He had firsthand experience of the Lebanese civil war, and then moved to Paris with his wife and children, where he worked for the weekly newspaper Al-Nahar Al-Arabi and worked at the French Jeune Afrique.

Maalouf's first book in French, The Crusades through Arab Eyes (1983), revealed his fundamental interests: history on one hand, and narrative writing on the other. Back then, the Crusades were a central theme in French historical studies and literary texts based on history, but they were rarely presented from an Arab perspective. Maalouf's book presented the Crusades as experienced by the Arab community in its various segments and affiliations. He followed a strictly objective approach founded on a humanism that pervades all his work. The Crusades were not merely wars of religion as they are sometimes taken to be; they were cultural clashes whose impact can still be witnessed today.

Amin Maalouf continued to make use of history in his fiction and to employ his narrative skill in his historical studies. He has published a number of novels based on history, including Leon Africanus (1986) Samarkand (1988), The Gardens of Light (1991), The Rock of Tanios (1993), etc. His works are characterised by a consistent array of themes ranging from his civil war experience, constant search for identity, cultural tolerance, and world citizenship. The central themes of Maalouf's narratives are embodied in his characters, most of whom speak several languages, master more than one talent, and enjoy multiple citizenships. Several characters in his novels are victims of circumstances (migration, war, and unremitting suffering); nevertheless, they are able to re-invent their own destinies, relying on their talent and belief in their high human values.

Maalouf's background and vivid personal experiences led him to realize that a singular, self-contained identity that arrogantly observes other cultures and identities out of fear or narrow-mindedness, is a sort of imprisonment that damages the collective betterment of humanity and leads to the impoverishment of life.

Maalouf's treatment of themes that touch upon modern-day fears and concerns, in intricate poetic and narrative forms, secured his indisputable position within the literary world. Hence the decision by the Sheikh Zayed Book Award to name him Cultural Personality of the Year.

The Award ceremony will take place on May 1st, 2016 [coinciding with the Abu Dhabi International Book Fair]. Mr. Maalouf will receive a prize of AED 1,000,000, a gold medal bearing the Sheikh Zayed Book Award logo, and a certificate of merit.