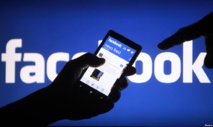 Zuckerberg said Facebook is "definitely not" trying to take on the role of deciding what is true, but at the same time is working to hire more certified fact checkers to make sure false stories don't circulate on the social media platform.
"People don't want Facebook to be the arbiter of truth," Zuckerberg said, speaking at Harvard University. "People already think we have too much power."
Facebook is trying hard to "make sure we are showing people high-quality content" and is building advanced systems to reach that end, he said.
Zuckerberg was speaking as part of a series of conversations around technology and society that he plans to hold this year. Wednesday's comments also touched on encryption, privacy innovation and future research areas.
The Facebook chief also said that the social media platform, used daily by about 1.5 billion people worldwide, should remain free of charge as it continues to grow.
He also touched on Facebook's Portal, a camera meant for video chatting in the home, offering some sympathy with consumers who might find it creepy. While on one hand he conceded that it is "a camera in people's living rooms," he said he envisions it having end-to-end encryption.
Facebook debuted Portal in November, drawing privacy concerns from the technology community.