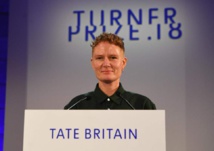 The judges praised "the painterly quality" and references to art history in Prodger's 33-minute video "BRIDGIT."
Prodger uses moving images, sculpture, writing and performance to explore "issues surrounding queer identity, landscape, language technology and time," they said.
She beat three other shortlisted artists to take the 34th annual prize, which is Britain's most prestigious award for art and worth 25,000 pounds (32,000 dollars) to the winner.