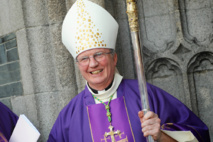 .
Ireland's Friday referendum resulted in two-thirds of voters backing a repeal of the country's Eighth Amendment, which gives the mother and unborn child an "equal right to life."
Prime Minister Leo Varadkar hailed Saturday's result as "a historic day" brought about by a "quiet revolution" in Irish society. The Catholic church was one of the main campaigners against the change.
"The church is called to be pro-life ... not just in words and statements and manifestos but to be pro-life in deeds, by being a church which reflects the loving care of Jesus for human life at any stage," Martin said.
"That loving care includes support to help those women who face enormous challenges and who grapple with very difficult decisions to choose life."
Martin said continuing the church's pro-life stance "means radically rediscovering in all our lives a special love for the poor that is the mark of the followers of Jesus."
"Reshaping the church of tomorrow must be marked by a radical rediscovery of its roots," he said.
Martin earlier told national broadcaster RTE that he was surprised by the result of the referendum, but he said his church would not weaken its opposition to abortion.
Kevin Doran, the bishop of Elphin, wrote an open letter to Catholics in his diocese in north-western Ireland. Official statements from the church's top leaders were expected later Sunday.
"As we awake to the reality that Irish people have voted by a significant majority for abortion, my thoughts go out to the thousands of good people, across our diocese and across the nation, who worked so hard to protect the right to life, both of women and their unborn children," Doran wrote.
"I share your sadness," he said. "For now, I want to encourage you with the thought that what was true yesterday remains true today."
Doran said the church "will continue to explore effective ways to support women and their unborn children, families in difficulty and women who have had an abortion."
The Irish Catholic newspaper reported that Archbishop of Armagh Eamon Martin, the primate of all-Ireland, was expected to discuss the result on Sunday, while the bishops' conference was also expected to issue a statement following a meeting on Sunday.
"Every human life remains beautiful, every human life remains precious. Every human life remains sacred," the primate tweeted on Saturday, adding the hashtag #ChooseLife.
He said he would use weekend sermons to "give thanks in prayer for the many courageous 'missionaries for life' who made such a huge effort to remind us that in pregnancy we are dealing with two lives - both in need of love, respect and protection."